French Louis XV Period, Wrought Iron and Gilt Metal Console Table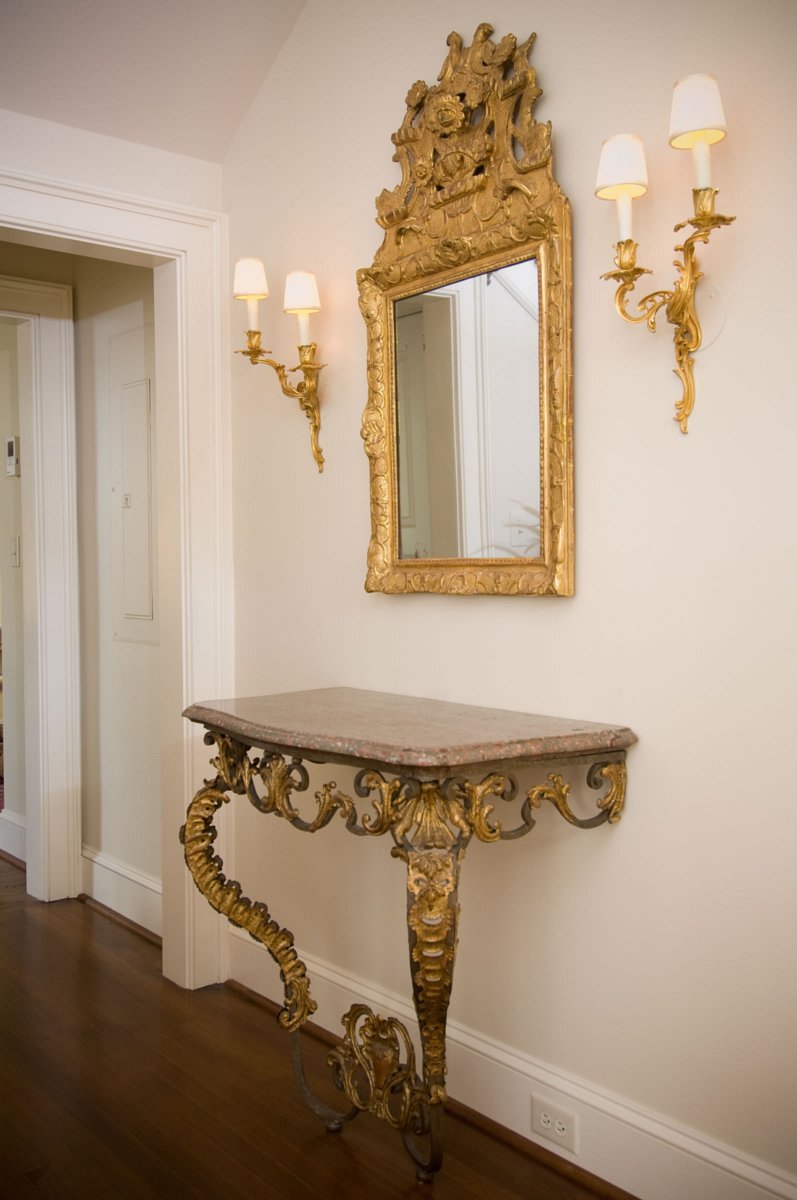 Description: An important and rare French Louis XV period, wrought iron and gilt metal console table. This console table is an extremely unusual combination of high rococo design interpreted in what was considered an unusual, and even experimental, material in mid-18th century France. Surviving pieces of 18th century wrought iron furniture are rare. Many are provincial pieces, and often Southern French, and are in marked contrast to the more sophisticated and high style steel pieces being made for the court and Paris residences. (See U. Leben, "Iron and Steel Furniture in France", The Magazine Antiques, Sept. 1996, pp. 346-353.) One such style example is in the Frick Collection, New York, NY.
This console table has a serpentine pink and green mottled marble above a conforming pierced foliate cast-frieze on rocaille-decorated cabriole legs joined by a pierced foliate element centered with a fruit.
Provenance
South of France
Private Collection, New York, New York
Mary Helen McCoy Fine Antiques, Memphis, Tennessee
Stock Nr: 1363
Origin: South of France
Circa: 1740-1750

Height: 34.5 ins.
Width: 38 ins.
Depth: 21.5 ins.
Add to personal portfolio
Print Details + Photo
Contact us
Mary Helen McCoy Fine 17th, 18th & 19th French Antiques
Memphis, Tennessee
By Appointment Only
Tel: 901-786-8115 | Email: mhmcantq@aol.com