French, Late 19th Century, Sèvres Biscuit Bust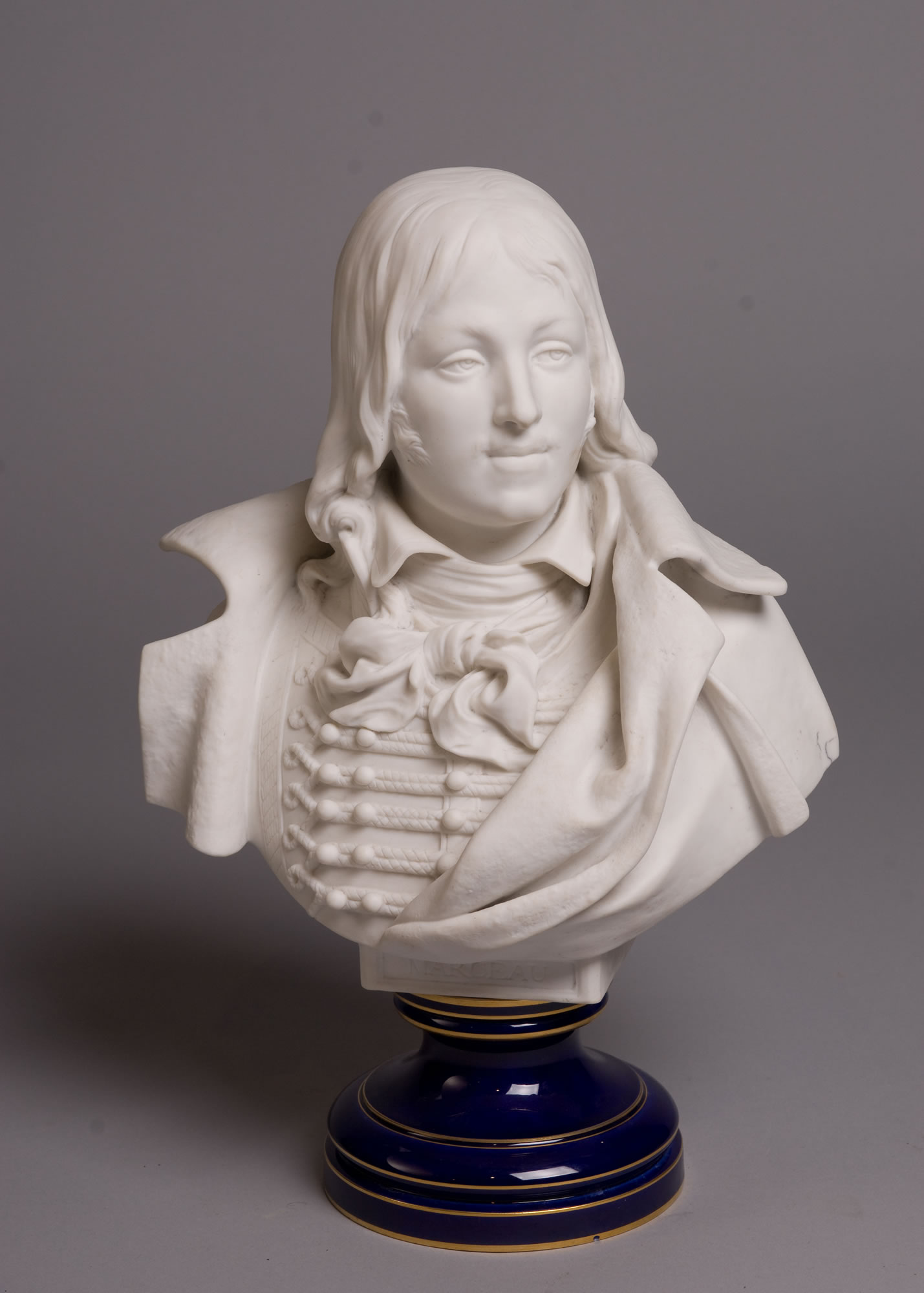 Description: A superb example of a French, late 19th century, Sèvres biscuit bust, "Marceau", atop a blue ground with gold porcelain base. The bust is of François Séverin Marceau-Desgraviers.
The mark on the back base of the biscuit is the word, "Sevres", enclosed in an oval ring. This mark was used from 1860-1899.
The mark on the inside of the blue porcelain base is a red circle with the words in red around the inside of the circle manufacture nationale. The words, "Doré a Sevres", are centered. This mark was used from 1872-1899.
François Séverin Marceau-Desgraviers
Born at Chartres, François Séverin Marceau-Desgraviers (1769-1796) was a French general of the revolutionary wars. He received an education for a legal career, but at sixteen, he enlisted in the army. While on furlough in Paris, he joined the storming of the Bastille on July 14, 1789.
In 1792, Marceau was elected Lieutenant Colonel of one of the French Revolutionary Army battalions. He defended Verdun, but because his defenders' poor morale provoked the anger of the revolutionary authorities, he had to find other employment as Captain in the regular service. In 1793, he and other officers were arrested under suspicion and spent time in prison.
After his release from prison, Marceau took part in the defense of Saumur against the Vendéean Royalists and rescued the representative Pierre Bourbotte from the hands of the insurgents. For his heroism, Marceau was promoted rapidly and later became Brigadier General in September 1793. He was instrumental in the victory of Cholet and began a friendship with General Jean Baptiste Kléber. Marceau became a général de division in November 1793 and then succeeded to the commander-in-chief ad interim, and with Kléber, won important victories near Le Mans and Savenay in December 1793.
During the winter of 1793-1794, Marceau was stationed in Paris when he accepted a command in the army under Jean Baptiste Jourdan alongside Kléber and participated in the various battles near Charleroi. He took part in the 1795-1796 campaign with armies of the Sampre and Meuse and distinguished himself alongside Kléber.
Marceau fought desperately during an invasion of Germany which ended in disaster. He received a mortal wound and died two days later on September 19, 1796 at only 27 years old. The Austrians competed with Marceau's own countrymen to honor the dead general. His body was burned and the ashes placed under a pyramid in Koblenz designed by Kléber. They were transferred to the Panthéon in 1889.
Marceau was immortalized in Byron's, "Childe Harold's Pilgrimage".
Vetted Antique Shows/Fairs
The International Fine Art and Antique Dealers Show, New York, NY, 2008
Provenance
Sèvres, France
Private Collection, Bordeaux, France
Mary Helen McCoy Fine Antiques, Memphis, Tennessee
Stock Nr: 1247
Origin: Sèvres, France
Circa: 1884

Height: 16 ins.
Width: 11 ins.
Depth: 9 ins.
Add to personal portfolio
Print Details + Photo
Contact us
Mary Helen McCoy Fine 17th, 18th & 19th French Antiques
Memphis, Tennessee
By Appointment Only
Tel: 901-786-8115 | Email: mhmcantq@aol.com